26 March 2015: Solar energy has really taken off in the Mount Alexander Shire. In terms of the percentage of homes with solar PV installed, the shire is now running equal second in Victoria to Indigo Shire which includes Beechworth and Yackandandah*.
The number of solar houses in the Shire increased from just over 1500 to almost 1900 in 2014, an increase of 24%*. Half of this increase was due to installations with the Mount Alexander Solar Homes (MASH) project. Also importantly, as shown in the accompanying graph, because the systems are now bigger, the total number of kilowatts installed increased by a whopping 34%. As a result of all this activity spurred on by the Mount Alexander Solar Homes (MASH) project, almost one in every four homes in Mount Alexander is now solar powered.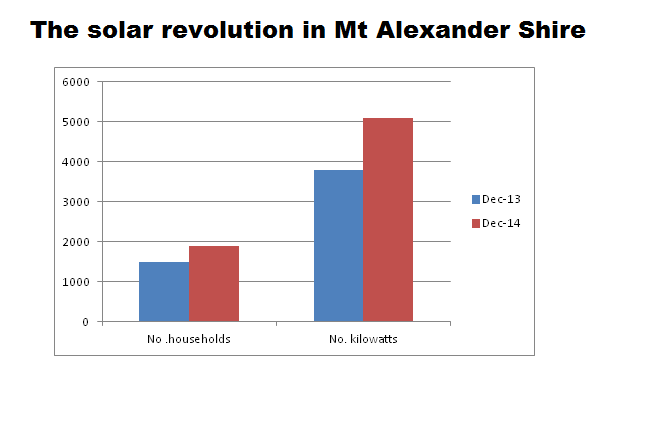 The MASH project was organised by Castlemaine's Hub Foundation. Project Officer, Jo Kaptein, is very pleased with the result so far:
"It's been fantastic. Many more people have saved money on their electricity bills and, at the same time, reduced their CO2 emissions."

"Today our shire has 24% of houses with solar, compared with Bendigo's 16%. Victoria overall has only 10%. But whilst we're doing very well, we've still got a way to go before we can catch up to Indigo Shire's 28%.

"It hasn't all been smooth sailing though. The electricity distributor and the retailers haven't always been easy to deal with, perhaps because they're opposed to the Renewable Energy Target. We have recently written to Maree Edwards MLA to ask her to put some pressure on the government to carry out some reform in this area.

"The Hub Foundation is planning to launch the second stage of MASH in April. MASH 2 will emphasise the availability of a low interest solar loan to help those who are short of upfront cash. For most households this will allow them to be cash positive almost from the start: the savings on electricity bills will exceed the cost of interest and repayments.

"The Foundation's aim is for Mount Alexander to become the No.1 solar shire in Victoria. We think 35% by the end of 2016 and 50% by 2018 Is achievable" said Kaptein.
*  Clean Energy Regulator, January 2015