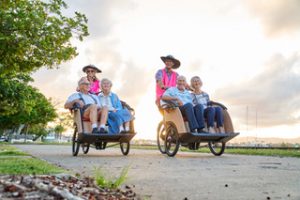 We are sad to advise that this weeks events are post-phoned due to the current restrictions. 
**Look out for a pop-up info stall at the MAXI IGA!!!
CycleSafe Mount Alexander and The Hub Foundation are working with a dedicated group volunteers to gather support and funds to set up a Castlemaine Chapter of 'Cycling Without Age .
This world-wide movement gives the elderly a way to be a part of their community.  This is done by having rides in the front of a dutch-made, powered trishaw.  Trained volunteers take the elderly out for up to an hour to be a visible presence in their town. Up front and in a really interesting bike, conversations and connections happen as a matter of course.
We dream of creating a world together, in which the access to active citizenship creates happiness among our fellow elderly citizens by providing them with an opportunity to remain an active part of society and the local community.