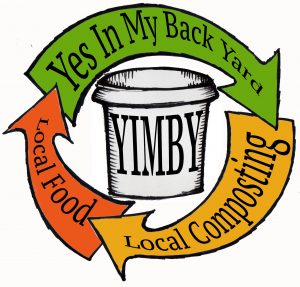 YIMBY HAS A NEW WEBSITE!! to find out more or to register your interest, go to

: 
YIMBY: Yes in My Backyard, Building community, compost and resilience.
YIMBY intends to trial a thriving, local, small-scale compost network. People who love composting will be connected within their neighbourhoods in order to divert household organics from landfill; household and garden scraps will be collected and processed in well- managed backyard compost systems.
Phase one of The YIMBY trial will support 3 households to participate in this trial as 'community composters', and 30 as 'compost contributors', (each filling a weekly bucket with kitchen scraps). This  phase is supported by the Mount Alexander Shire Council's Community Grants Program.
Phase Two of YIMBY will increase to a further 10 composters/100 household contributors. This Phase is supported by the Recycling Victoria Communities Fund, delivered by Sustainability Victoria on behalf of the Victorian Government.
YIMBY is a serious alternative to FOGO large-scale, curb-side collections. It aims to demonstrate that diverting organics at a micro level is a feasible, cost-effective circular economy.
YIMBY will increase local knowledge and expertise to produce safe, clean and high quality compost. By engaging local soil ecologists, compost experts and partners, monitoring systems will be designed and implemented to ensure methane emission reduction.
YIMBY will build community resilience and resourcefulness, converting an existing problem to a rich resource. Diverse models will be developed at a micro scale to suit each location. For example, hot composts, integrating chooks and/or worm farms, collections, drop offs, sharing of compost or instituting payment for collection.
YIMBY will grow the capacity of our community through nurturing a diverse network of interconnected 'community composters', organisations and people who share a vision of a sustainable future and are willing to work towards it.