Welcome to The Hub Foundation
The Hub Foundation is a not-for-profit organisation based in Castlemaine, Central Victoria. In our own small way we want to help tackle climate change, locally. Our biggest project so far was MASH (Mount Alexander Solar Homes Project), a solar panels bulk-buy offer for people who wanted to reduce their electricity bills and cut their CO2 emissions. Over 900 systems were installed  in four years, up to April 2018.  Because of other demanding activities, this project was passed over to the Central Victorian Greenhouse Alliance which is now running it very successfully.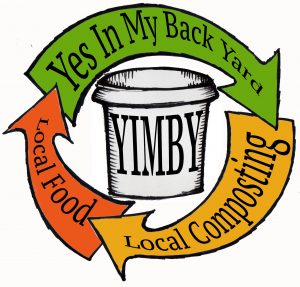 YIMBY is The Hub Foundations most recent large project and has been operating since 2021.
YIMBY is a local community composting initiative that aims to reduce organics going to landfill by connecting people passionate about composting with those who wish to donate their food scraps.
Yimby's methods are simple, but vision is big.  By supporting multiple composting hubs to compost well in people's backyard, we aim to divert the Shire's food scraps from landfill, connect people in their neighbourhoods and make great compost – that grows great food!
As of June 2023, YIMBY has diverted over 15,000 kg's of organics from landfill, made over 10,ooo kg of high quality compost and and avoided over 45,000 kg Co2e being generated.
For more info, head to yimbycompost.com
Live Lightly for a Safe Climate
The Hub Foundation has a fine tradition of supporting local artists and encouraging local action on climate change.
When it was time for a new mural, The Hub Foundation were drawn to the delightful and inspiring work of award winning local illustrator and author Trace Balla.  "Trace's work both inspires and informs, reflecting a vision of the world that is much needed at this time", says Lucy Young coordinator of the mural project.
Many elements of 'Live Lightly for a Safe Climate' mural are present in Castlemaine, however, this mural is not specific to this town, or Dja Dja Wurrung country, rather it is meant to delight and inspire anyone, anywhere.
As Trace says in this short video clip (below), she would love the image to live in many places, as a digital print, anything is possible and The Hub Foundation welcome enquiries from other communities who are interested in replicating the image in their own town/communities.
To purchase mural for your community or other merchandise, go
here
.
The Hub Foundation is located on the land of the Dja Dja Wurrung people. We respectfully recognise Elders past, present and future and acknowledge that sovereignty was never ceded.